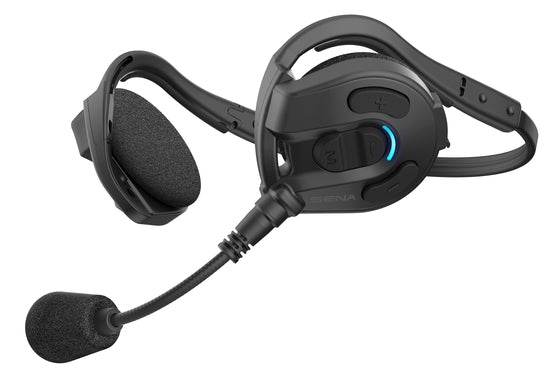 description
What is included
EXPAND MESH COMMUNICATION HEADSET
The Sena Expand Mesh is a compact communication headset equipped with Mesh Intercom™ technology allowing for easy group communication. With just a touch of a button link multiple Expand Mesh headsets and/or any Sena Mesh Intercom™ device for open communication, perfect for a wide variety of recreational activities

TECH FIT FOR MULTIPLE ACTIVITIES
The Expand Mesh headset offers a safer way to communicate during outdoor sports and activities. Whether it's rock climbing, horseback riding, hiking, fishing, hunting, or even paragliding, the Expand Mesh allows for convenient full-duplex group communication at extended ranges without having to shout or use hand signals.

SEAMLESS MESH INTERCOM™ COMMUNICATION
When using the Expand Mesh you can communicate hands-free with other Sena Mesh Intercom™ users up to 0.25 mi (400 m) away, or up to 1 mi (1.6 km) away with 6 or more users. The Expand Mesh features both Group Mesh Mode and Multi-Channel Open Mesh Mode, which supports 9 channels letting users switch between different groups on different frequencies. Sena's Mesh platform offers flexibility by allowing users to come in and out of range while keeping the rest of the group connected without interruption.

SLEEK & COMFORTABLE DESIGN
The Expand Mesh was designed with a low-profile form factor that sits comfortably over the user's ears, while still allowing for awareness of surrounding sounds. The Expand Mesh has rounded arms located just above the speakers, which provide a secure hold onto the head and ears. The device's low hanging neck band allows users to also wear a hat, climbing helmet, or glasses, while using the Expand Mesh headset.

Expand Mesh Headset
USB-C Power & Data Cable
Speaker Pads
Microphone Sponge
Product Focus
Mesh Networking

Robust and reliable communications network.

Multi-Team Communication

Communication with different teams across 9 channels.

Advanced Noise Control™

Reduces the effects of ambient noise during intercom conversations.

Smartphone Connectivity

Allow you to configure device settings, access the User's Guide and more.
Rugged, proven performance
Learn how Sena can meet your communication needs.
Download the Application Data Sheet.
Download PDF
Technical Specifications
GENERAL
Dimensions:
Main module: 164 mm x 120 mm x 142 mm (6.5 in x 4.7 in x 5.6 in)
Weight:
Module - 100 g (3.53 oz)
Operating temperature:
-10˚C – 55˚C (14°F – 131°F)
MESH NETWORK
Mesh Intercom™ Technology
BLUETOOTH
Bluetooth 5.2
Headset Profile (HSP)
Hands-Free Profile (HFP)
Advanced Audio Distribution Profile (A2DP)
Audio Video Remote Control Profile (AVRCP)
INTERCOM
Working distance:
Mesh Intercom: up to 400 m (0.25 miles)* in open terrain
*Can extend up to 1.6 km (1.0 mile) between a minimum of 6 users
Supports up to:

Open Mesh Intercom: virtually limitless
Group Mesh Intercom: 24 riders

Supports Channels:

Open Mesh Intercom: 9 channels
AUDIO
Noise Cancellation: Advanced Noise Control™
Codec: Built-in SBC Codec
HD Speakers
BATTERY
Talk time:
Up to 10 hours
Charging time:
3 hours
Type:
Lithium Polymer Battery
Support
Sena Device Manager
Instructions for Firmware Update