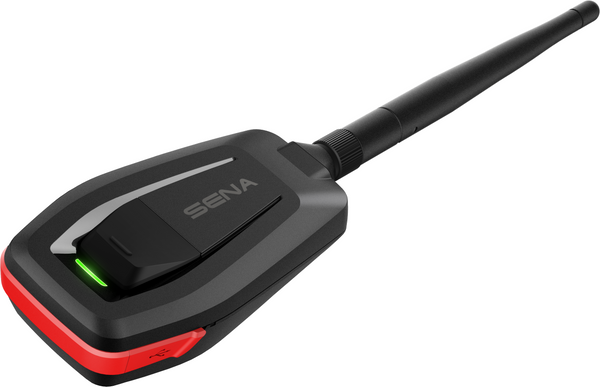 description
What is included
INTEGRATE SMARTPHONES OR TABLET PCS INTO ONSITE COMMUNICATION
Connect any Bluetooth-enabled smartphone or tablet PC and communicate with any Sena headset with Mesh Intercom™ capabilities, such as Tufftalk M. The MeshPort Red adapter provides any work environment with secure communication, multiplex conversations, and hands-free use. Smartphones and tablets can become part of the onsite team communication by allowing cellular or Wi-Fi devices to access the mesh network with the VoIP protocol.
CONNECT OFFSITE COMMUNICATION TO WORKSITE TEAMS
Offsite personnel can communicate to teams at worksites or on the shop floor seamlessly via cellular networks or Wi-Fi connected to a MeshPort enabled network. Using a cell phone as a gateway to connect to the MeshPort Red onsite, outside groups can become connected to the Mesh Intercom™ network and speak directly to the onsite team. MeshPort Red becomes a bridge to the outside cellular network allowing for greater business communications within the overall work network environment. 
CREATE VALUE ADDED SOLUTIONS FOR INDUSTRIAL APPLICATIONS
More and more, handheld and tablet devices are being integrated into workplace environments to access data, run applications that draw on the data processing power of smartphone or tablet PC devices, or simply to help train workers from a distance. To integrate these devices, the new Meshport Red provides a mesh interface for the user's application needs. That is why systems integrators and manufacturing directors find Meshport Red as a valuable tool when building a custom solution for their work teams

MeshPort Red Main Module
USB Power & Data Cable
Belt Clip Mount
Rubber Strap Mount
Flat Surface Mount
Product Focus
Mesh Networking

Robust and reliable communication network.

Bluetooth 4.1

Bluetooth Low Energy for connecting to mobile devices.

Intercom 800 M / 0.5 MI

Maximum distance operating within optimal conditions.

Mesh 2.0 Device Adapter

Integrate remote mobile devices into workplace communications.
Rugged, proven performance
Learn how Sena can meet your communication needs.
Download the Application Data Sheet.
Download PDF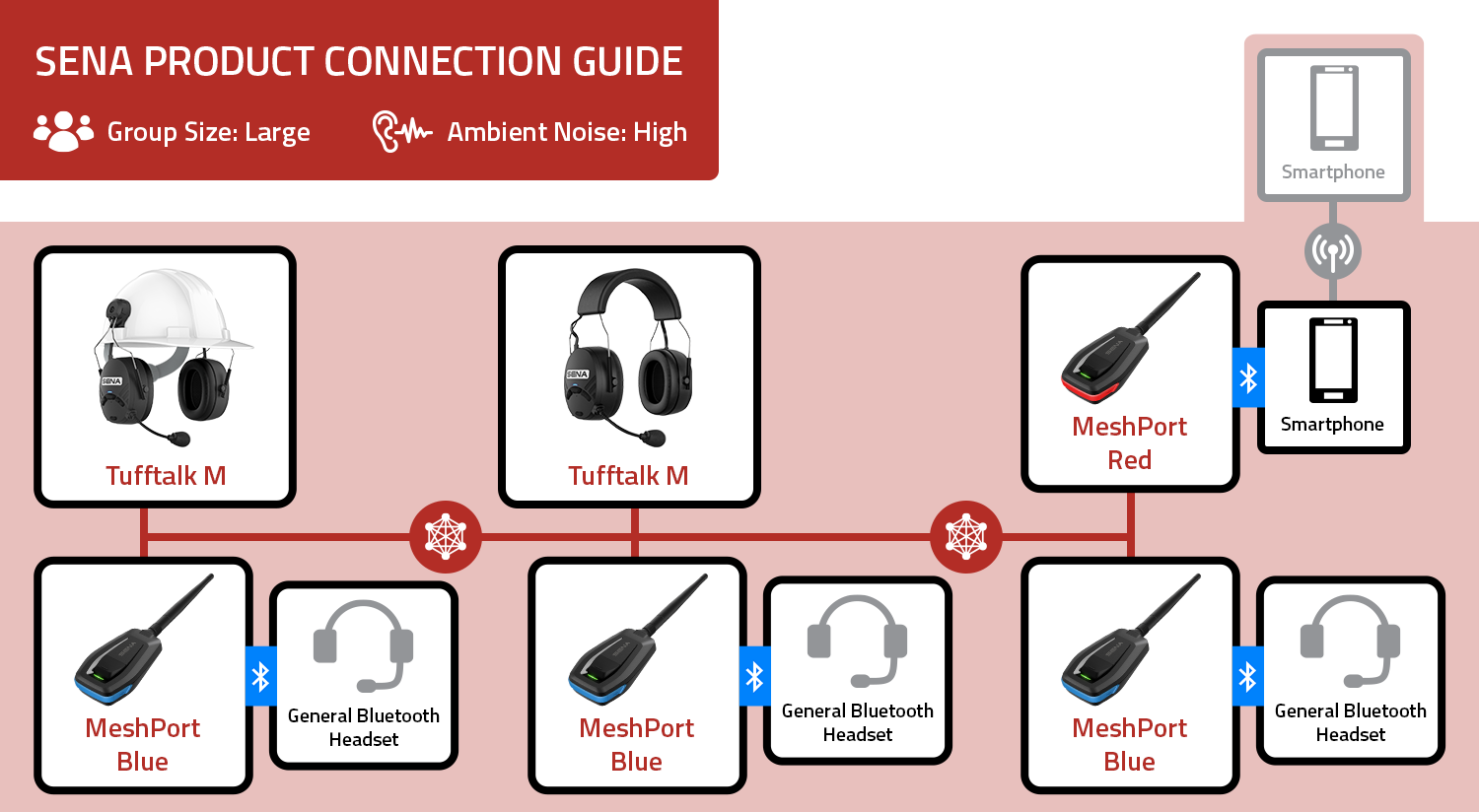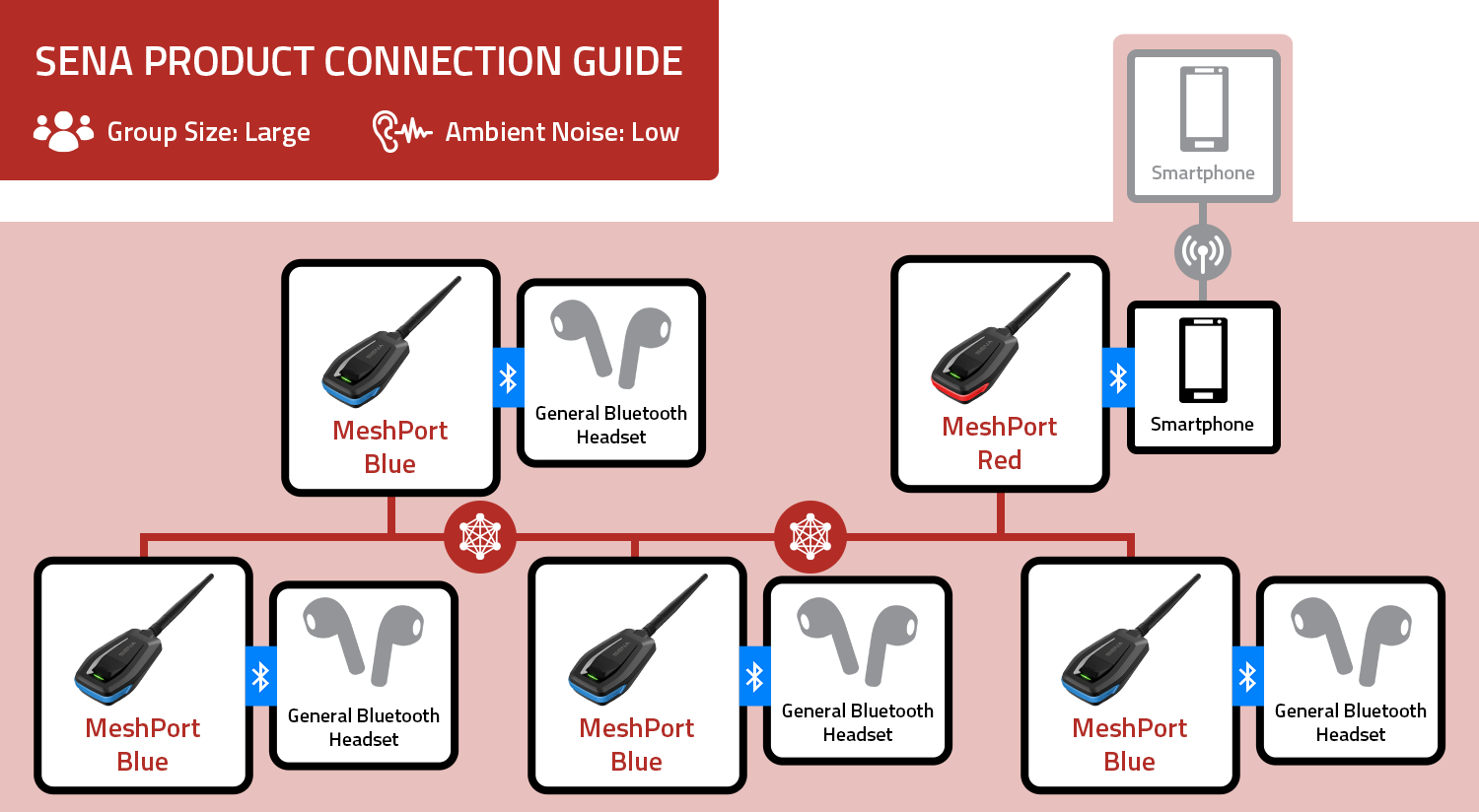 Technical Specifications
GENERAL
Dimensions:
45 mmx 187 mm x 26 mm (1.8 in x 7.4 in x 1.0 in)
Weight:
60 g (2.11 oz)
Operating temperature:
-10˚C - 55˚C (14°F - 131°F)
BLUETOOTH
Bluetooth 4.1
Headset Profile (HSP)
Hands-Free Profile (HFP)
MESH INTERCOM
Working distance:
up to 0.8 km (0.5 mi) in open terrain*
*Can extend up to 3.0 km (1.9 miles) between a minimum of 6 users
Supports Channels:
9 channels
AUDIO
Noise gate
Sample rate of 16kHz (wideband), 8kHz (narrowband)
BATTERY
Talk time:
up to 8 hours
Standby time:
250 hours
Charging time:
2 hours
Lithium polymer
3.8V, 1200mA
CERTIFICATES
CE, FCC, IC, KC NCC, JAPAN MIC
Support
Sena Device Manager
Instructions for Firmware Update
Firmware Histories
v1.41 July 14, 2023
Minor bug fix with the LED turning blue while in Repeater Mode.
v1.4 October 27, 2021
Updated the version of Mesh 2.0
v1.3 October 19, 2020
v1.2 September 22, 2020
Improved audio quality and battery performance during Mesh Intercom
v1.1.1 June 10, 2020
Added support for the MeshPort App
Added Mesh volume and channel settings
Added Mesh Adapter Mode
Minor bug fix with the power not automatically turning off when the microUSB cable is disconnected after updating the firmware
v1.0 June 3, 2020